The Lightmongers affiliated school, New College Worcester (NCW) for blind and visually impaired children and young people held their annual Celebration Day on 1st July 2023, where the students achievements over the academic year are recognised and their work, including a concert of music, is show-cased for the many visitors.
The Lightmongers were represented on the day by the Master, Jamie Berry, Freeman Donna Berry, Deputy Master Margaret Fitzsimons and Past Master and Chair of Trustees, Steve Thomas.
The Master summarised the impact of the day for him as follows:
"What an amazing school NCW is. Following our first visit Donna and I have come away amazed by the courage and talent of these young students. This was the Summer music concert and awards day that we were privileged to be invited to. What inspirational teachers and staff they have, to bring out the best of these wonderful talented individuals to allow them to follow their dreams.
The singing voices of the pupils were memorable, and the electronic guitar and ukulele stringing the bohemian rhapsody by Queen was totally outstanding.
David Williams gave such an inspiring talk of his own life as a blind person who has shown that a disability does not need to stop you achieving your life ambitions. He elegantly uplifted the students and parents to show that disability should not be a barrier.
With a tour of the art exhibition and living accommodation the day ended with photos of Donna and I with the art teacher in amongst the students artwork".
The following are some of the examples of the students art work.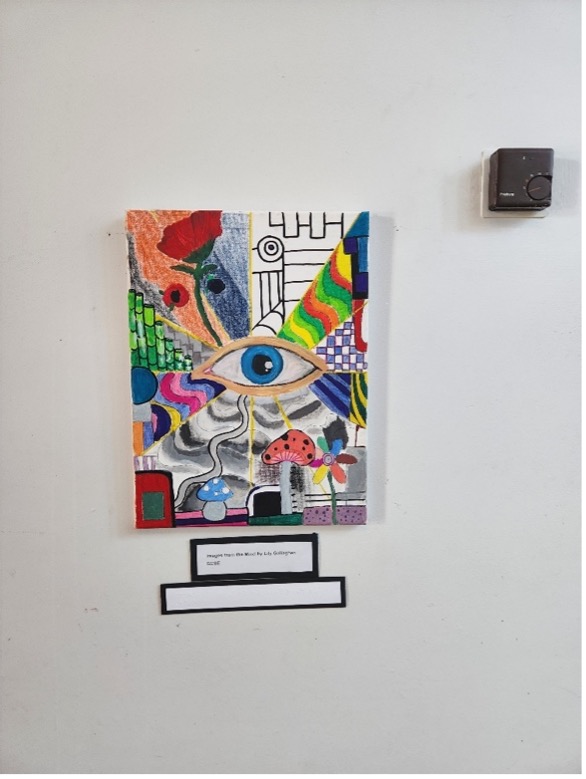 During her tour of the school, Deputy Master Margaret Fitzsimons met one of the students who is passionate about gardening and has his own blog on the NCW website. Margaret was delighted to purchase some home grown potatoes and some tomato plants (hoping for a rich harvest!).
It was a great day for all the students and staff of NCW, and everyone at the Lightmongers can be proud of our affiliation with the school.
The Lightmongers, through its Charitable Trust, has recently made a three-year funding commitment to NCW (and to our other affiliated school, Mary Hare) that will enable the school to plan enhancements for the benefit of the students more effectively.  This funding is possible through the Lightmonger members making their annual donations, 100% of which go to support fantastic organisations, such as NCW, with not a single penny being diverted to administration costs.