Our wonderful Summer Banquet this year was held on 5th July and by kind permission of the Lord Mayor, we were able to hold it at the Mansion House in London. As ever, it was a very enjoyable and sociable evening in the wonderful surroundings of the Egyptian Hall of the Mansion House.
The Master, Stephen Thomas, welcomed Alderman Sir Andrew Parmley, representing the Lord Mayor who was on an overseas trip on behalf of the City of London, and presented a cheque for £1000 from the Lightmongers Charity to the Lord Mayor's Appeal. Under the heading of "a better City for all" the Lord Mayor's Appeal is supporting three charity partners; Place2Be, Onside Youth Zones and the Samaritans.
The Master also gave a very warm welcome to guests from our two affiliated Schools; Tony Shaw representing Mary Hare School for the Deaf and Nicki Ross (The Principal) and Kevin Hateley from New College Worcester School for the Blind. He presented a cheque to each School for £5000 from the Lightmongers Charity, to support the incredibly valuable work they do in developing the academic and life skills of their sensory-impaired students. The Master also thanked all Members for their generous support each year to the Lightmongers Charity both through their annual donations and their support of events such as our Charity Golf Day.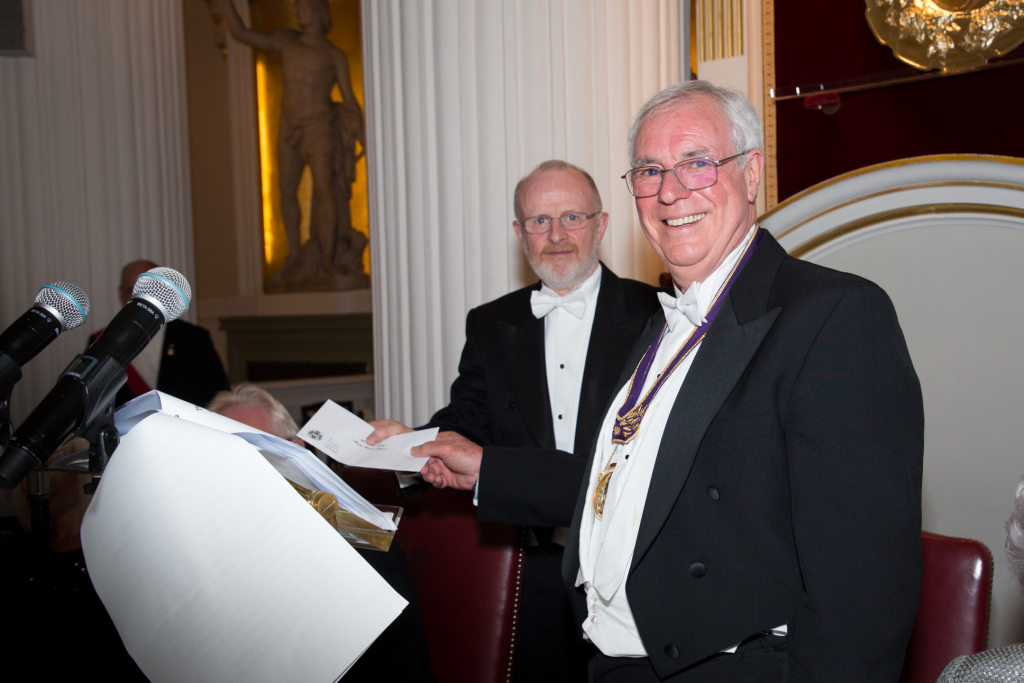 Alderman Sir Andrew Parmley, on behalf of the Lord Mayor, gave an excellent and humorous speech, covering some of the developments in the City of London and thanked the Lightmongers for their generous donation to the Lord Mayors Appeal.
The Junior Warden, Liveryman Michael Cumper, made a speech of warm welcome to all guests at the Banquet and proposed the toast to our guests.
Baroness Betty Boothroyd OM PC Hon.FSLL, responded on behalf of the guests and gave an entertaining speech, concluding with a toast to the Lightmongers Company, "may it flourish root and branch forever".
This very enjoyable evening was, and is, a great opportunity for members to entertain family, social and business guests in a superb and prestigious setting. Make an early reservation in next year's diary; the provisional date for the Banquet is 3rd July 2020!