There is no doubt that all the stars aligned for Junior Warden, Jamie Berry, who held his Junior Warden's event on the Thames aboard the Edwardian cruiser in July 2021.  Not only did he manage to get his timing right to organise the Lightmongers' first in-person event for over a year, he also selected one of the balmiest evenings of the Summer enabling guests to see the London skyline at its finest.
Junior Warden, Jamie Berry, and wife, Donna, host an evening to remember on the River Thames aboard the Edwardian.
Jamie pulled out all the stops to guarantee a memorable evening keeping numbers relatively low to ensure guests felt comfortable and well spaced.
Lightmongers shared sparkling wine and sparkling conversation as they cruised along the Thames – there was just so much to talk about after 15 months of separation – before enjoying an excellent three course meal.
Lightmongers were delighted to be together again to share a beautiful summer evening.
Entertainment on acoustic guitar was provided by renowned duo Harper & Bailey. Specialist caricaturist, Jai Li, made guests smile as he created on-the-spot portraits.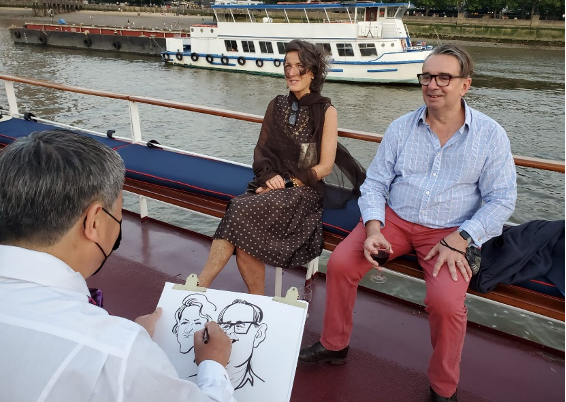 The purpose of the Junior Warden's event is to introduce the new Junior Warden to members of the Company and Jamie had to wait almost a year to host his event, which he was determined to do face-to-face rather than virtually.
Jamie welcomed all guests, including the Master, Revd Peter Harris, and Senior Warden, Margaret Fitzsimons and made a short speech to introduce himself to the company.  Well done Jamie, it was well worth the wait!
Junior Warden, Jamie Berry, makes his inaugural speech to the Company
In addition to being Junior Warden, Jamie is Chairman of the Events Committee and will become Senior Warden in November 2021.