Dear Fellow Lightmongers,
23rd August – Lightmongers visit to HMS Queen Elizabeth
At the invitation from the Captain, a group of 30 Lightmongers were welcomed aboard HMS Queen Elizabeth. This was our first opportunity to have a general visit to the ship and it is fair to say that all attended were hugely impressed, with its size and capabilities, even more so with the highly professional officers and crew who looked after us whilst we were on board. The Ship was preparing to go off on a three-month deployment a week after our visit, but even with all the preparations for that voyage, we were made warmly welcome.
Another reason for our visit was to enable the Lightmongers to present a gift to mark our affiliation. This was in the form of two decanters and salvers for the Wardroom, which I was delighted to present to the Captain.
6th September – Illuminated River Cruise
A party of 60 Lightmongers and their guests boarded the Edwardian, a Thames river cruiser, for a trip to view the lighting of the first 4 Bridges of the Illuminated River project. Once completed this will be the longest public art commission in the world at 2.5 miles long, covering 15 bridges from the Albert Bridge down to Tower Bridge.
Everyone enjoyed a very convivial evening, with a buffet supper and plenty of time to network, as well as to see the new lighting of the Bridges (Cannon Street, London Bridge, Millenium Foot Bridge and Southwark Bridge).
It is anticipated that we will repeat this event next year to view the 5 additional bridges that will be switched on in early Autumn.
9th September Modern Liveries Dinner
The Senior Warden and I attended the Modern Liveries Dinner at the Furniture Makers' Hall, hosted by Worshipful Company of Management Consultants. The principal speaker was Lady Lenzie who reminded us very eloquently about the importance of diversity and inclusion for the whole livery movement.
12th September – 14th Annual Liveries Halls Walk
Three months ago it seemed a great idea, but today clothed in full robes and jewel I faced the challenge of walking 9 and a bit miles visiting 39 Livery Halls within the City, and wondered if I was crazy, particularly as my two Wardens had declined my invitation for them to accompany me. So with considerable trepidation I met my fellow Masters very early in the morning aboard HQS Wellington for breakfast and a briefing.
The challenge began and as you can imagine, 50 plus people clothed in livery attire caused a real stir with rush hour commuters and tourists.
As the sun rose in the sky and our guides directed us to each Hall we were getting very warm in our Robes and were extrememly grateful of the occasional stop for refreshments!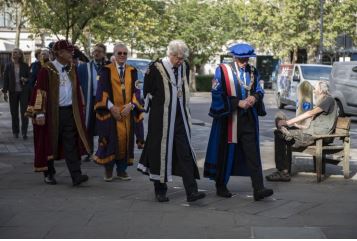 By lunch time we had visited 19 halls and had arrived at Armours' and Braisers' Hall where we enjoyed a light lunch. Having recuperated and fortified by some nice wine we set out to visit another 19 Halls which was some what daunting.
I am pleased report that I completed the challenge and was greeted at Southwark Cathedral by the Dean and his staff with a welcoming cup of tea, before walking back to the City to change for that evening's event.
9th September – The Four Liveries Lecture
This year the event was organised by the Worshipful Company of Spectacle Makers at Painters' Hall. The lecture was given by Professor Tara Moore of Ulster University.
Tara Moore is Professor of Personalised Medicine at Ulster University, where her research team concentrates on genetic treatments for inherited eye disease. She is also an international expert in forensic science and microbiology and holds not just her university chair but also the role of Chief R&D Officer for Avellino Labs in San Francisco, USA. At weekends she is the mother of seven children and (apparently) a mediocre polo player.
Sadly the sound system caused problems making it difficult for many to hear her properly, however it gave us an insight into the amazing work that she and her team achieve using modern science.
3th September – Magical Taxi Tour to Disney Paris
One of the highlights of the Master's year is attending the send-off for the Worshipful Company of Hackney Carriage Driver's annual Childrens' Magical Taxi Tour, taking sick and terminally ill children to Disneyland Paris.
The Hackney Carriage Drivers have provided this 3 day trip, from Friday to Sunday, for 26 years now, and it is very much appreciated by all the families participating.
The Lightmongers support the event as part of their charitable activities by sponsoring one of the carriages (black taxi cabs). This year over 100 taxis and their wonderful drivers , plus support vehicles, set off from Canary Wharf after breakfast at 7am, with the Lord Mayor and Sheriffs starting them on their journey.
The morning at Canary Wharf was simply a "Magical" and unforgetable atmosphere and the generosity and support of so many people contributing to making this event so unique and special for these young people is simply staggering!
It is such a privilege as Master to represent Lightmongers, and meet our taxi and the family and children who will enjoy this tour.
16th September – The Worshipful Company of Farmers' Luncheon
The Learned Clerk and I attended lunch at the invitation of the Master Farmer, as the links between our two Companies have been strenghtened by our Lightmongers Lecture on vertical farming and the use of LED lighting in promoting growth. A number of their Members have requested that they would like us Lightmongers to repeat the Lecture as it is seen as the future for farming for short growth high value crops in the UK.
18th September Lightmongers' Court Meeting & Dinner
It was such a delight to clothe a new Liveryman and welcome five new Freeman into our Company at our September Court Meeting.
20th September – Senior Warden's Reception
The Senior Warden held his reception at the fantastic Savile Club which was a wonderful occasion which was enjoyed by all who attend. Thank you Peter for a very memorable evening!
27th September – Visit to Royal Military Academy Sandhurst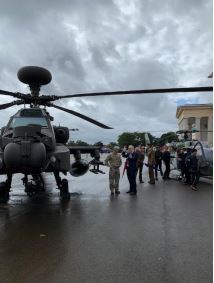 I was delighted to be invited by the Army through Col Al Brown to attend the STEM Careers Fair and the VIP luncheon. Our Company is highly valued for its contribution to Education and strong affliliations to 101 Regiment and 579 and our latest affiliation with the Royal School of Engineering at Brompton, Chatham Kent. It was my first visit to Sandhurst and was so inspired with the outstanding facilities and opportunities it provides to young people embarking on a career with the Military.
1 st October – Worshipful Company of Clockmakers
The Master Clockmaker invited me and Phill, our Clerk, to attend the Harrison Lecture and their Michaelmas Court Dinner at Clothworkers' Hall. It is at this Court Meeting that Members of their Court select their Master for the coming year so imagine my surprise and delight to find that their Master Elect is an old friend who had lived in Guildford, whom I lost touch with 20 year's ago. Even more amazing was that we were sitting together at Dinner so lots of catching up and sharing memories – a very special evening.
2nd October – Election of the Lord Mayor Guild Hall on Michaelmas Day
William Russell has today been elected as the 692nd Lord Mayor of the City of London. As the elected head of the City of London Corporation, he will serve as a global ambassador for the UK-based financial and professional services industry from 8 November 2019 for a one-year term. William will be the fifth member of his family to be Lord Mayor in the past 110 years. His grandfather, Sir Ian Bowater, was Lord Mayor from 1969 – 1970 and his great grandfather, Sir Frank Bowater, from 1938 – 1939.
2nd October – The Worshipful Company of Musicians Annual Evensong Service at St Paul's Cathedral
The Master Musician invited me to attend their Annual Evensong Service at St Pauls. Fully gowned I joined the procession of Masters to our seats for their service dedicated to Musicians. As you may appreciate much of the music included in the service was written by past Members of the Company which include some famous composers and the playing of by selected young musicians was exceptional.
3rd October – The Worshipful Company of World Traders
The Master, Dr Edwina Moreton, invited me to join her at the last event in her year as Master. This event called "the Master at home" took place at Museum of the Order of St John, St John's Gate. This was a wonderful invitation and one that a really enjoyed as we have become good friends during our year together as Masters.
4th October The Lightmongers' Master & Clerks' Luncheon
As Master, I was delighted to host our Annual Masters and Clerks' Lunch at Tallow Chandlers' Hall where we return the hospitality to the Masters of other livery companies who have entertained us during the year. It was especially pleasing that so many Lightmongers were present to look after our guests on this occasion. The letters of thank you from visiting Masters and Clerks truly appreciate the warm welcome, hospitality and good company of the Lightmongers!
7th October – Livery Committee of the City of London Reception Guildhall
The Learned Clerk and I attended the Livery Committee Reception at Guildhall. This was a new event where the Chair, Ms Victoria Russell, reported on the work of the Committee during the past year and their view of the challenges ahead for the Livery Movement together with their plans for the coming year.
8th October – Art in the City Exhibition
Phill and I were invited to attend the Painters' Decorative and Fine Art Society's 30th Exhibition "Art in the City 2019" at Painter's Hall.
9th October – The Worshipful Company of Parish Clerks
I was invited to Evensong at St Mary Woolnoth followed by All Hallows Dinner at Tallow Chandlers' Hall by the Master Nick Hull. Nick also lives in Dorking, just a stones throw my home and yet our paths have never crossed until this evening.
10th October – The Worshipful Company of Wheelwrights
This evening I was invited to St Stephen Walbrook for their Evensong service folowed by their Michaelmas Dinner in Skinners' Hall by their Master James Tucker.
16th October – The Worshipful Company of Fuellers
I felt very honoured to be invited to the Installation Dinner of His Royal Highness The Earl of Wessex KG GCVO at Mansion House. This was a right royal affair with such high security at Mansion House and its surrounds. The food and wine were delightful and the speeches were excellent. The Earl was enjoying the occasion and is a very relaxed entertaining Speaker who will have a fantastic time as Master.
17th October – The Worshipful Company of Fan Makers
The Clerk and I were invited to the Selection Court Dinner at Skinners' Hall by the Master of the Worshipful Company of Fan Makers. The Guest Speaker, Eugenie Maresch, a personal friend of the Master Dr Jeffrey Bines PhD, was from Poland and recounted her journey through life and her experiences living through the invasion of her Country and the consequences imacting on her and her family. A truly amazing Lady who has left a lasting impact on all who were present.
18th and 19th October – The Royal Merchants of Edinburgh
I, together with our Clerk, travelled to Edinburgh to join the Royal Merchants of Edinburgh at their Charter Dinner. The connection between our two Companies is through our Naval Affliation with HMS Queen Elizabeth. Their Master Don Young has attend with his daughter and wife our Summer Banquet and our Illuminated River Cruise as my personal guests. So a number of Lightmongers have got to meet and entertain Don and his family.
The Merchants' Company, has been enriching the life of Scotland's capital for more than 300 years. The Merchant Company's original purpose was to protect trading rights in the City of Edinburgh. Today, over 540 businessmen and women are Members of the Company, actively involved at the heart of the city in educational and charitable works, as well as continuing to hold a central role in the civic life of Edinburgh. The Company is also Scotland's most pre-eminent livery company.
Our greeting at their wonderful Hall was the swirl of bagpipes and a wonderful welcome and Phill and I enjoyed their generous Scottish hospitality at their Charter Dinner which is only held every two years.
The following morning we were invited on a tour of their City visiting historic landmarks as well as their social housing for the elderly and their 3 schools which educate more than 5000 young people. This was awe inspiring tour and showcases the fantastic contribution the Livery provides to the education of young people.
Following a buffet lunch with their Members we made the long journey back to London with new friendships and links north of the Border. Their Members look forward to the Lightmongers visiting their city again next year.
2nd October – Installation Dinner the Worshipful Company of Chartered Surveyors
I was surprised but really pleased to be invited to the new Master John Woodman's installation Dinner at Merchant Taylors' Hall. It is a pleasure to meet a new Master as they look forward to their year ahead and share their joy and excitement of their journey ahead. Also to meet their Members in good company and fellowship on such an occasion.
24th October – Trafalgar Night Dinner at Historic Chatham Dockyard
Having never attended a naval celebration of Trafalgar Day I was very excited to be invited by the Chairman of the Historic Dockyard Trust at Chatham to attend their annual dinner. The Chairman is our good friend Admiral Sir Tevor Soar KCB OBE DL.
Chatham Dockyard is at the heart of our nation's maritime history, a place where Victory was built and where Nelson joined his first ship. A very poignant and atmospheric venue to celebrate such a significant event in our naval history.
25th October Lighting President's Lunch
The Worshipful Company of Lightmongers brings together the Presidents of the lighting industry bodies once a year to network and discuss matters in the delightful surroundings of Tallow Chandlers' Hall.
This year there was particular discussion over the importance of training and how it might be best to try to improve the opportunities in the provisions and needs of this extremely important subject. The President's agreed that The Worshipful Company of Lightmongers, "being the overarching body of the lighting industry" is able to perform the function of being "the touchstone" on matters such as this. It is planned to take this forward by trying to bring together the various people involved in education for each of the bodies and to discuss how it might be possible to act more cohesively for the benefit of everyone in the industry.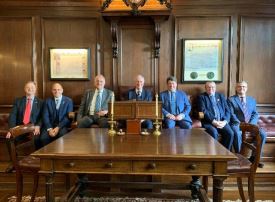 The Presidents (or their deputies) present were:
Terry Dean           President               Lighting Industry Association
Colin Fish             Immediate Past    President Institute of Lighting Professionals
Charlie Lacey       Board Member     Electrical Distributors Association
Michael Leech      President                Highway Electrical Association
Jim Pridham         President               Electrical Contractors Association
Jim Shove              President               Society of Light and Lighting
26th October Mill House Tour and Gin Tasting
Despite the problems created by London Transport a "Glow of Lightmongers" met at the Mill House at Bow. After a welcoming coffee our two knowledgeable guides told us the story of the life and survival of the largest surviving tidal Mill, and Its conversion from a flour mill to a gin mill in the 16th Century. Also how it survived the bombing in 1940 but the houses and bonded warehouses didn't and the River Lea had a raging fire for three days from the gin which poured into the river.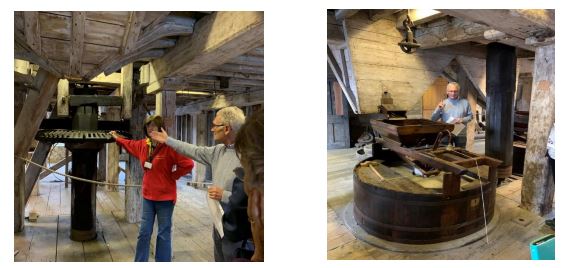 We then explored the Mill floor by floor stopping at each level to sample a different gin which may have been created from ingredients produced by the Millers at this site.
At the and of this fascinating tour our hosts treated to a sumptuous homemade lunch with glasses of either gin or wine to accompany our excellent meal.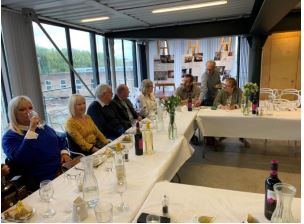 This tour was enjoyed immensely by all who attended and I wish to thank the Events Committee for organising the day for us to visit.
31st October The Lady Mayoress at home.
My last event before the Court Meeting and Common Hall will be to attend an event arranged by the Lady Mayoress at Mansion House.
Where has a year gone?
However, I have enjoyed every single minute.