Dear Fellow Lightmongers,
23rd April    I was invited to join the traditional St George's Day celebrations held at the Watermans' Hall. Every person attending is presented with a red rose and enjoyed the wonderful hospitality of the Watermans' Company. The Menu of course was Roast Sirlion of Norfolk Beef and Rhubard Crumble. Long live St George!
24th April   Accompanied by our Clerk, I attended the Masters & Clerks' Dinner at the Wax Chandlers' Hall. Our Company has long associations with Wax Chandlers' who were founder sponsors of our Company. This was a very special evening and has strengthened our fellowship with their Members and our two Companies.
25th April to 28th April The Master's Weekend in Malta
I have been searching for the collective noun for Lightmongers, so suggestions please.
For now I think a "Glow" of Lightmongers descended on Malta for the Master's Weekend.
This is really for those who attended to comment but here are a few lines to give a flavour:
The first evening our coach took us to the "Silent City" of Medina for a wlecome glass of Champange and nibbles followed by a guided tour of the City. At eight o'clock the the bells sounded the hour as we entered Cathedral Square and my surprise happened.Two little girls dressed in local gowns led us into an amazing unexpected theatrical experiance in historic fantastic surroundings. All I can say is that I had tears in my eyes as we all enjoyed some magical moments!
Our evening concluded by dinner at a quirky restaurant set in the walls of the city with a log fire burning for atmosphere and warmth together with local food and wine.
Saturday, bright and early, our party set off for a walking tour of Malta with our guide. We enjoyed World Tai Chi Day, seeing the Maltese Government and exploring the streets with their history. Just before lunch was a visit to the Malta Experience, an audio visual presentation of Malta's history.
Lunch was at an award winning restaurant, Palazzo Preca, along a narrow alley where we enjoyed their wonderful cuisine and wine. Then on to the Palace Armoury before returning to the Hotel to relax around the pool.
The evening was our Gala dinner in the Old Palace, after which we retired to the bar for entertainment from a local singer.
Sunday, our tour was to the Birgu one of three Cities and then on to the fishing village Marsaxlokk.
Our afternoon was spent at St Nicklaw Estate sampling their wines and food. Our host was a famous surgeon and his son who explained each wine and the story behind starting his vineyard.
Our Sunday evening was organised by Peter McVeigh and Tess at the local's eatery where the food and portions were huge. See our Senior Warden tackling apple pie! A fun evening to round off the day!
Monday saw the additional visit to Gozo for an intrepid group of Lightmongers, crossing the countryside to get the ferry to Gozo. Our visit was a guided tour visiting Port ta I-Imgarr, Munxar, St Lawrence and the famous Blue Grotto Ta' Pinu and the amazing story of peasent lady and her vision and the building of the Cathedral and on to the Salt Pans.
Lunch was at Ta' Frenc where was again we enjoyed amazing food and wine. Finally a whistle stop tour of the Citadel before catching the ferry back to our hotel.
9 th May Sadly the weather gods were not smiling on our Annual Golf Match with play having to be abandoned after 13 holes. However Lightmongers and their guests dried themselves off to enjoy the dinner at the RAC club where I was pleased to be able to award the prizes.
19th May The Lost Rivers Walk – It was disappointing that so few Lightmongers joined this event. Our guide Paul Telling, author, TV star and a real character was simply outstanding!
He is so knowledgeable and interesting. I heartly recommend that you don't miss this man if we are able to book him again. This was such a different Sunday and gave me a view of parts of London I would have never visited and will not forget. Thank you Events Committee.
21st May    Clergy Support Trust Following the very moving service at St Pauls, their 365th Festival Dinner was held at the Merchant Taylors' Hall.
23rd May     I was honoured to be invited to RAF Benson for their Annual Reception as I know how valued our affliation is with 606 squadron. This evening provided me the opportunity to meet the new Air Commodore Jane Middleton, who I am hoping will meet Lightmongers later in the year.
28th May     I represented our Company at an event in the Guildhall organised by the Cordwainers about the Mary Rose Trust [reseting its work and challenges ahead.
29th May     On a very wet day I, with my sister, attended the Queen's Garden Party at Buckingham Palace. Sadly the rain spoiled what should have been a very special day for us both.
1 st June    Col Al Brown of 101 EOD Regiment, who was my guest In the carriage at the Lord Mayor's Show, invited me to join him for their Regimental Dinner at Grays' Inn. This evening was a wonderful occasion to meet members, especially from 579 Squadron, with some of their partners.
4 th June    The Master Mercer invited me to attend her Concert at their hall. This was unexpected invitation and a real priviledge. What a splendid evening, followed by supper.
6 th June   The Master Constructor Mike Parrett invited me to their Sir Christopher Wren Banquet at Fishmongers' Hall. This is their highlight of their calendar and is only held at this wonderful venue every two years. How fortunate I am to enjoy such a very special occasion.
7 th to 9th June IronBridge Weekend
For 36 years, the Lord Mayor, Sheriffs, Masters and Prime Wardens have been invited by the Ironbridge Gorge Museum. This tradition was started by the late Sir Peter Gadsden, Lord Mayor in 1979/80, who was fascinated by the story of Ironbridge as the bithplace of the Industrial Revolution. To date Livery Companies have donated over £600,000 in monies and in-kind donations. This year the Lord Mayor asked attendees to spend an afternoon and work in syndicates to address the challenges facing the Livery Movement now and into the future and to consider how best to meet them.
11th June Charted Trading Standard Institute Symposium 2019 Brighton.
I, together with our Learned Clerk, attended the CTSI Symposium and Dinner in Brighton.This was an excellent opportunity to network and be ambassadors for Lightmongers and our Industry.
12th June Awards & Prize Giving Evening, Inter Livery Shooting Match Guildhall.
I was delighted to be asked by Past Master Ian Crosby to present the Lightmongers' Ladies Cup to the winner. What a great surprise and joy as the Lady Top Gun was the Mistress Tallow Chandler Margaret Baxter. This is the second time she has won it. Come on Lady Lightmongers, sign up next year and see if we can wrestle the cup away from Tallow Chandlers' – just contact Ian and be guaranteed a fun day at the Inter Livery Shoot.
20th June Drapers' Master & Clerks' Lunch.
On a warm summers day the Clerk and I were able to enjoy their newly refurbished garden before lunching in their wonderful Hall. The Drapers' hospitality is legendary and this was no exception!
21st June After a morning of interviewing Prospective Members, the Clerk and I travelled to Woolwich Town Hall, the journey being an adventure in itself, to attend the 56 Woolwich Squadron Awards Evening. I am often asked what is been the best thing in your year? Not easy to answer but this is up there, definitely one of them.
The welcome by the cadets and the Mayor was outstanding but what made the evening so special was the young people thenselves.Their pride, their skills, their achievements, their camaraderie and joy in their fellow cadets success. How fortunate we are to have our affliation with such a special Cadet Squadron. I must also pay tribute to the leadership and dedication of their Commanding Officer Mark Bird without whom none of this would happen.
Thank you Mark, and also to our Lightmonger Dave Burns for all your support.
24th June Election of Sheriffs Guildhall
The Sheriffs are elected for a one year term of office by the Liverymen of the 110 Livery Companies each Midsummer Day (24th June), and their year at the Old Bailey runs from the day before Michaelmas (28th September) for the next 12 months. Following this year's election it was lunch at Tallow Chandlers'.
27th June
The William Wright Lecture at UCL As Master it was my role to welcome Dr Stephanie Wright and our Guest Speaker Dr Celine Nicole.
Dr. Celine C.S. Nicole is Senior Plant Research scientist at Philips Horticulture LEDs solutions. She has expertise in physics, plant science and technology. Celine is expert on optics and thermal management and specialist in nutrition, growth and pre- or post-harvest quality of various horticultural crops under LED lighting. She is laboratory manager of R&D cityfarming facility in the GrowWise research center and is also in charge of open innovation and supervision and co-promotion of University students.
Her presentation was most stimulating and informative and resulted in numerous questions from our attendees. Subsequently we have have been asked to repeat her lecture for the Worshipful Company of Farmers as it was considered to be so important by one of their Members who had attended.
29th June New College Worcester Celebration Day.
This truly was a day of Celebration!
The day started with an ouitstanding Summer concert with students from all year groups and abilities entertaining us with their eclectic mix of music and singing, from classical to jazz, rock to soul and then musiical theatre. Simply amazing!
I then visited their Art Exhibition which was both thought provoking and stimulating by wonderfully creative young people. The displays of design, sculpture and paintings were frankly amazing; Daisy Lloyd for her tactile story telling for visually impaired children; Fin Mudge for his Surrealist art; and Freya Shaw for her portrayal of Chagall's life – Wow!
The Presentation of Prizes was by Lee Greatbatch a paralympic sportsman from 2008 and inspirational speaker.
Finally the thank you's from the Senior Students leaving the school were really emotional and moving.
The Head and Staff are truly inspirational and makes our affiliation to our Schools so special and I feel so proud of what Lightmongers do to support them.
This was day I won't forget!
1 st July Jailed & Bailed
Your Master was summoned to appear at the Old Bailey where he was charged with a number of heinous crimes and despite pleading my innocence was found guilty and sent to the Tower!
A ball and chain were attached to my person to prevent me absconding and along with 30 other villians I was transported to the Tower!
On arriving fearsome guards from the Tower equiped with a large axe and a pike escorted us through the jeering crowds to be incarserated in our cell and put on a diet of bread and water.
Eventually, due to you generous Members of our Lightmongers Company, my bail was paid and I was released from my terrible ordeal! Although I do have to tell you that the water from the well in the Tower of London was simply wonderful! It has a wonderful taste and lots of bubbles, and so refreshing!
Once again, my personal thanks to you all, and I am delighted to inform you that due to your payment of my bail, together with those of the other Livery companies, over £40, 000 was raised for the British Red Cross.
This is a wonderful achievement which reflects the true spirit of our Livery movement and will enable the British Red Cross to continue to help people in crisis.
2nd July During my year the Master Innholder and I have become good friends so it was a real pleasure for the Clerk and I to be invited to his Hall, a venue which I have never visited with a wonderful history to enjoy Innholders hospitality!
6th July
Our Summer Banquet It was such a delight to welcome so many Lightmongers and Guests to the Mansion House.
I trust that you will agree that the catering Team excelled having overcome the problems of a fire in their kitchens a few days earlier, and that you enjoyed my choice of menu and wines. My guests seemed to, having expressed their appreciation of a memorable evening in the good company of Lightmongers.
I felt so privileged to have Dr Andrew Parmley as the Lord Mayor's representative and Baroness Betty Boothroyd as my guest Speaker.
Betty Boothroyd OM PC Hon FSLL is an Honorary Lightmonger and a great friend to our Company, and such an amazing lady who will be celebrating her 90th Birthday in a month's time.
9 th July Worshipful Company of Plumbers Summer Festival
Dame Fiona Woolf DBE DStJ DL, another of our Honorary Lightmongers, is this year's Master of the Plumbers' Company so it was such a great pleasure to be invited to her Summer Festival at Stationers' Hall,
It was no surprise to meet some fellow Lightmongers at the Reception and enjoy their company in the wonderful gardens.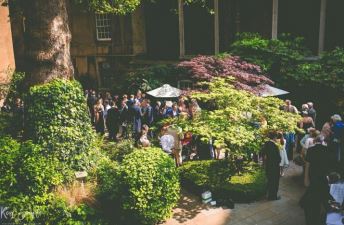 11th July LIA Charity Ball Grange Hotel
A number of Lightmongers attended the LIA Charity Ball which was a fund raising event for Great Ormond Street Hospital. I am delighted to report that Peter McVeigh will be presenting a cheque for £10,400 in early September to the Hospital.
17th July Cart Marking
For centuries the Corporation of the City of London exercised its rights over carts and carriers plying for hire within the City by Common Council. This changed in 1838 when the power to license was vested in the Keeper of the Guidhall. Each licensed vehicle was brought to Guildhall once a year to be marked. This time honoured tradition continues to be maintained by the Worshipful Company of Carmen.
This event which is the the largest parade after the Lord Mayors' Show in the City is one that I really didn't know anything about until I attended it this year as Master.
17th July Illuminated Rivers
I was invited to attend the offficial switch on of the first four bridges of the Illuminated Rivers Project.
The Illuminated River will be a long term art commission on an unprecedented scale, a scheme to light central London's bridges along the River Thames. It will transform the capital with a unified light installation across central London's bridges that will connect, celebrate and capture the spirit of the Thames and its diverse communities.
18th July Imperial Society of Knights Batchelor
Knighthood is the oldest non-Royal title of honour, with the first Knights receiving this acolade late in the tenth century. The Imperial Society of Knights Batchelor was founded in 1908, one hundred year's later a new Knight's Chapel was dedicated in the Crypt of St Pauls' Cathedral. A service of Dedication is held each year with new Knights taking their vows.
19th July Navy Awards Dinner
Imagine my surprise and delight to receive an invitation from the Commodore Woods, Commander of Portsmouth Flotilla to attend an Awards Ceremony for Sailor of the Year as a sailor of our affliated Ship HMS Queen Elizabeth had been nominated.
Able seaman Mollie Stokes was the winner for her outstanding contribution to the life of the Ship.
23rd July Brigantes Breakfast Manchester
The 2019 Brigantes Breakfast, held in the spectacular surroundings of the Whitworth Hall, University of Manchester, was attended by a capacity 300 Liverymen and guests, with 81 Companies represented and 28 current Livery Masters processing.
The occasion commenced in the adjoining Museum of Manchester with the now traditional Brigantes Lecture, presented this year by the Museum Director, before moving on to the Reception and Lunch in the Banqueting Hall.

The Toast to the Guests and the Response were delivered with much humour and jesting by Alderman Sir David Wootton and Alderman Dr Sir Andrew Parmley respectively, as Brigantes tribal elders for east and west of the Pennines.
22nd July Sherriffs Tour of the Old Baily
The Sheriffs hosted a tour of the Old Bailey as a fundraising event for the Sheriffs and Recorder's Fund.
30th July The Worshipful Company of Distillers
An evening spent tasting award winning spirits – which one was best?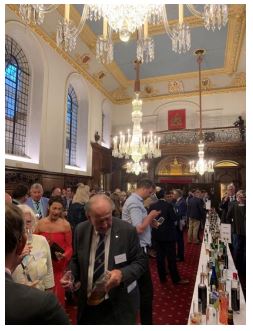 Sorry I can't remember!
So now the Month of August to recharge my batteries and look forward to the last two months of my year as Master – Where has the time gone?